An "organic" pool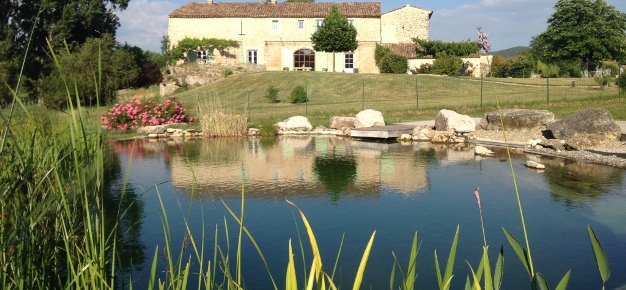 Our pool is special! It's called "organic", "natural" or "green".
How does it work?
There are two pools: a swimming pool, and a pool of regeneration planted with of aquatic vegetation. The water flows from one basin to another by an underground pump system. It is filtered by the roots of plants, by micro-oeganism, and by layers of sand and gravel .Pool is framed by natural granite blocks.
Read more...
This is a German method, implemented by the pools "Bionova".
You will find Le Mas de La Bau on Bionova site, in the pages dedicated to self catering lodgings with natural pools (gîtes avec piscines naturelles )
What are its characteristics?
The benefits are ecological ...
Read more...
No concrete, no chemicals, nature is respected. The plant and animal life naturally settles in the pool and in dry stone walls: you can admire the water lilies and iris; frogs, tadpoles and dragonflies come and visit, raising interest and delight of young and less young people...
... and sanitary ...
Read more...
The chlorine used in conventional tanks is known for its irritating effect (itching, irritations, eczema ...), and it presents an even greater risk for infants in whom it increases the risk of asthma and allergy to the mites. In an organic swimming pool, no stinging eyes, no irritated skin : the bathing is done in a naturally pure water, without health hazards.
... But also aesthetic.
Read more...
The pool, surrounded by vegetation, fits perfectly into the landscape of La Baou. The blocks of natural granite define an irregular shape. The "restanques" (terraces) are backed with walls made of stones found on site. They underline the traditionnal, rustic and mineral character of the environment of the mas.
In practice:
- Can we swim? Yes of course! This is a real swimming pool.
Read more...
Approximate dimensions of the swimming pool: Size: 75 m², length: 11 m, width 7 m, depth 1.4 to 2 m, sufficient to jump from a small wooden diving board.
- Is there any dangerous animal? Absolutely none!
Read more...
Frogs and tadpoles are shy, discreet, and particularly useful: they eat mosquito larvae. Dragonflies begin their lives in water as larvae, whose empty moult are sometimes found clinging to plants. This animal life reflects the good health of the pool.
- What is its temperature? It is not heated, but it warms up quickly from the first sunny days.
Read more...
The water heats by running in a small stream and cascading over a cliff, and then on the bed of small pebbles that lines the shallow part of the pool. It is usually around 18 ° from late April to 25 ° in June and it can reach 30 degrees in July / August, then down around 20° in September.
- What are the constraints? There is only one: nature must be respected.
Read more...
This means:
Not to try to catch the animals.

Take a shower before swimming, especially if you put on sunscreen. (We installed a solar shower, which gives hot water).

Not to walk among the plants.

Ball games are not allowed in the water and in the pool area.
- When and how can we access it? At any time.
Read more...
Subject to compliance with other users (the pool is shared with the owners and other guests of the gites) and the peaceful character of the area.
- And about children ?
Read more...
The pool is of course protected by a fence and a security gate. Within this scope, children must be under the constant supervision of their parents. Kids does not have a foothold in the bathing pool, but they can wade through the pebbles of the shore. They simply should be told that they should not throw stones into the swimming pool.